No Black Friday Sale Here
Rather than try to coerce you to purchase my stuff by devaluing it, I thought I would just remind you of some of the cool stuff I have on sale around here!
Even Ninja Monkeys Like to Play: Unicorn Edition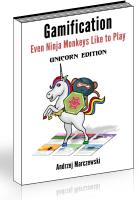 Here is a free chapter! "How to Use Narrative to Create
Deeper Experiences"
Gamification Inspiration Cards
You can get the gamification inspiration cards in two ways. You can buy them as a physical deck here – https://www.drivethrucards.com/product/130329/Gamification-Inspiration-Cards–Full-Colour
Or
You can download them directly from me, with a printable PDF (8 per page of A4) and all cards as PNG images.
Gamification Design Toolkit
My gamification design framework and toolkit. It includes worksheets, advice and processes to help you design solutions or run ideation workshops.
Toolkit and Cards Digital Copy Bundle
You can (for a limited time) get the Toolkit and a digital copy of the cards in one discounted download.
Other Books!
Over the years I have created a fair amount of paid content, here you will find quick access to the best places to buy them all.
---
---
Also published on Medium.